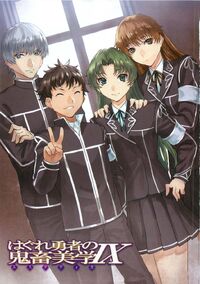 The Student Council are JPN Babel's special group. Their goal is to keep the students out of harm's way.
Overview
The Student Council can keep an eye on anyone who caused trouble in JPN Babel, such as Akatsuki Ousawa, as he became their main concern. This is has more to do with Akatsuki's overwhelming power and apparent lack of common sense, rather than the violation of any rules on his part; as they believe that he has the potential to plunge the school into chaos, if he really wanted to.
Members
Discipline Committee
The Discipline Committee works directly under the Student Council as problem solvers. I.e., when Akatsuki first encountered Kenya Onizuka, they arrived on the scene immediately to break up any fighting.
Ad blocker interference detected!
Wikia is a free-to-use site that makes money from advertising. We have a modified experience for viewers using ad blockers

Wikia is not accessible if you've made further modifications. Remove the custom ad blocker rule(s) and the page will load as expected.