This article is a stub. You can help Hagure Yuusha no Estetica by expanding it.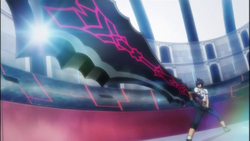 Laevateinn
is the sword belonging to
Akatsuki Ousawa
, generated through the use of several AD's. It was later generted using a single AD specialized solely for Akatsuki.
Overview
Akatsuki could not initially generate a weapon with an AD, but upon gathering the AD bands of multiple students, he is able to form a huge, unusual sword with tremendous power. This demonic sword has symbols engraved upon it. Since discovering it, he uses it constantly in all his battles. It was a big help against the dragon form of Phil Barnett.
Gallery
Trivia